Energy Savings Systems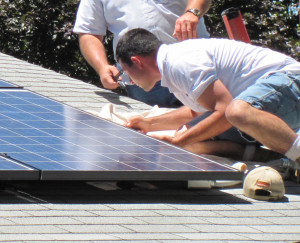 Are you looking for ways to decrease the costs of running your facility? There are many ways to reduce the energy costs for your business: from simple things such as energy-efficient light bulbs to solar panel installations. We make the appropriate recommendations to help your facility decrease its energy costs.
Who wouldn't want to cut their energy bills by up to 50%? Miller Electric has seen the energy efficiency revolution evolve in the last few years and it's transforming into a common way to cut costs. Energy awareness and demand have driven emerging technologies to show how much energy we use and where we use it. Only now has it become easy to control our energy intake!
Managing energy means you save money by saving energy. Why not increase your bottom line and reduce your energy consumption, it just makes sense! Your building is as unique as you are so Miller Electric will work with you, your building and your budget to provide energy management services, including lighting retrofits, wireless energy monitoring systems, renewable energy, daylight harvesting, dual-level switching, energy-efficient motors, occupancy sensors, timers and much more!
Energy Saving System Services Include:
Green Heating and Electrical Power Systems
Power Systems
Lighting retrofits
Wireless energy monitoring systems
Renewable energy
Daylight harvesting
Dual-level switching
Energy-efficient motors
Occupancy sensors
Timers
And many other Advanced Building Systems.
To schedule a consultation please give us a call 414-265-2521 or fill out our contact form.